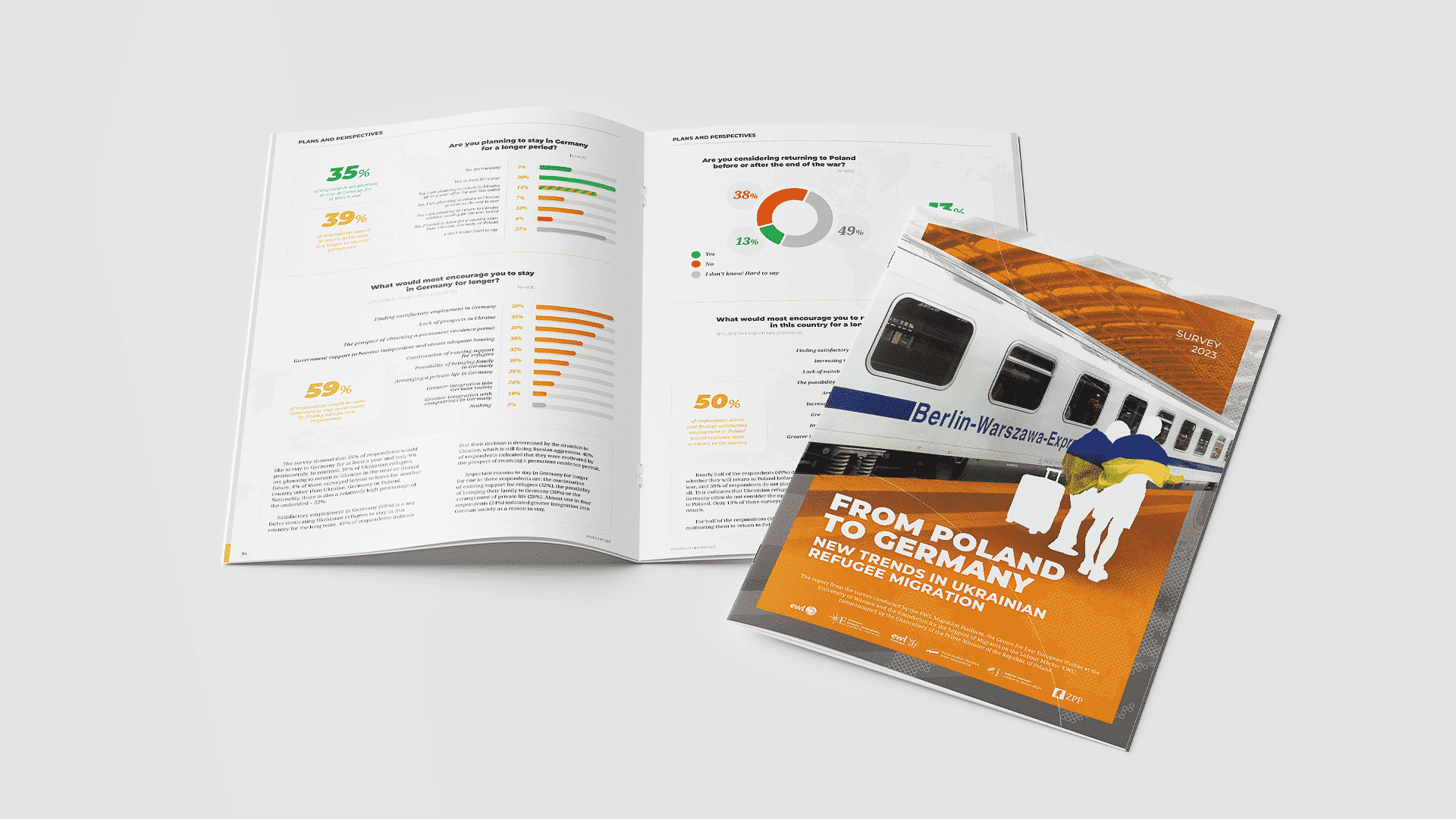 The special report was developed after analysing the results of the survey "From Poland to Germany. New Trends in Ukrainian Refugee Migration" conducted in August 2023 by the EWL Migration Platform, the EWL Foundation and the Centre for East European Studies at the University of Warsaw and commissioned by the Chancellery of the Prime Minister of the Republic of Poland. The survey was conducted with 400 Ukrainian citizens who came to Poland after the outbreak of war, receiving temporary protection status in Poland, and then left for Germany.
According to Eurostat, as of the end of June 2023 there were 1.1 million Ukrainian citizens registered in Germany, compared to 975,000 in Poland. This means that since August 2022 the number of registered refugees in Poland has decreased by more than 350,000, while in Germany it has increased by more than 410,000 over the same period. In this situation it is very important to know the reasons behind the refugees moving from Poland to Germany, and what discouraged them from continuing their stay and work in Poland.
The report will answer crucial questions, in particular:
HOW long did Ukrainian refugees stay in Poland before moving to Germany?
WHAT had the greatest impact on the decision of Ukrainian refugees to move from Poland to Germany?
WHICH education system do refugee children in Germany benefit from?
WHAT fosters the integration of Ukrainian citizens in Poland versus Germany?
IN WHICH industries have the refugees from Ukraine taken up jobs in Germany?
WHAT is the financial situation of Ukrainian citizens in Germany?
WHAT motivates Ukrainian citizens to stay in Germany for the long term?
ARE Ukrainian refugees considering returning from Germany to Poland?
WHAT would most motivate Ukrainian citizens to return from Germany to Poland?
WHAT would most motivate refugees to return to Ukraine after the war has ended?
Fill out the form and download the full report for free