Discover the EWL Group Experience
Process for starting cooperation
1/ Application registration: You apply to EWL with certain needs for our services.
2/Analysis and advice: After a thorough analysis of your needs, we will introduce you to our products and advise you on the best solution tailored to your requirements. Our recommendation will be supported by explanations.
3/Verification of requirements: Before starting the recruitment process, we will consult with our recruiting department to make sure we can meet your requirements and find suitable candidates.
4/Market research: We will conduct a market study, comparing your offer with other comparable offers available in the market.*
5/Customized offers: We will develop a personalized offer for you, tailored to your individual needs.
*If we find that your offer is not sufficient for potential candidates, we will offer advice on changes that can be made to make the conditions more attractive to employees and increase retention.
The process of starting recruitment
We listen to your opinion. We are always open to your suggestions and ready to negotiate to reach an agreement. Once we agree on the terms of cooperation, we proceed to formalize the contract, which provides legal security for both parties.
After signing the contract:
1/ We publish an announcement of available positions in our EWL mobile application and on local job portals.
2/ We review our extensive database of candidates, which we have been systematically collecting for many years. 
3/ We conduct a thorough vetting of the applying candidates.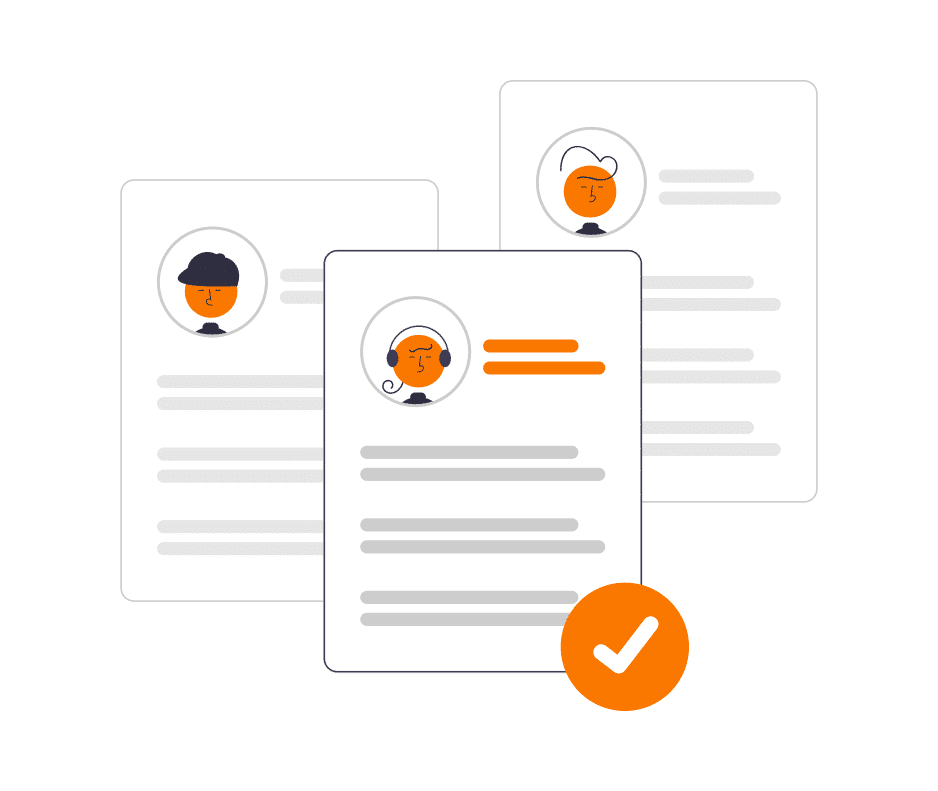 How do we verify candidates?
CV and experience checking: We carefully review candidates' resumes, trying to determine whether they have any experience in your company's industry. We look for relevant skills and competencies that are relevant to the position.

 

Interviews: We conduct interviews with applicant candidates. During these interviews, we discuss their work experience, responsibilities from previous jobs, and compare their skillset with your company's requirements.

 

Answers to specific questions: If you have provided us with a set of specific questions that you would like to have answered directly by the candidate, we are able to provide this service.
Candidate recommendations: After a thorough vetting of candidates, we select those who best meet your company's requirements. We send you our recommendations, which can be further verified by you.
Arranging arrival: Once the candidates are accepted, we arrange their arrival dates with you and organize all the necessary paperwork. If necessary, our local coordinators will assist your company and the candidates with arrival arrangements, such as accommodation, meeting to obtain a BSN number, setting up a bank account or making the first day of work successful.
Long-term collaboration
Once our candidates start work, we provide you with comprehensive support, which includes: 
Regular visits by our local coordinators to your company, who will monitor the progress of the work and make sure that everything is running smoothly, without the need for intervention on our part.

 

Constant availability of our coordinators, who are ready to help and answer any questions at any time.

 

Quick and effective response in case of any problems. Together with your company, we will take action to resolve these problems as soon as possible.

 

Providing support for your company during the duration of the employment of our employees to guarantee the highest quality of our services.

 
EWL Group's realizations
We successfully find candidates for companies in various industries. We have already completed hundreds of projects, always ensuring satisfaction on both the employee and employer side.
Case study