For the eighth time I have the pleasure of presenting to you the report on the phenomenon of cross-border mobility and the situation of foreign workers in Poland. The analysis, which I am handing over to you, is the result of research conducted by the EWL Group experts in cooperation with the Centre for East European Studies at the University of Warsaw.
During the COVID-19 pandemic the outflow of foreigners from the Polish labour market was less noticeable due to the rather open migration policy adopted by the Polish government. It was mainly because of this liberal approach to cross-border mobility that foreigners who were staying in Poland at the time of the outbreak of the pandemic were able to benefit from the automatic extension of residence and work permits, which made it possible to bind them to the Polish labour market for longer.
The coronavirus pandemic has changed the labour market and consequently the industries where cross-border workers find employment. Compared to May 2019, the employment of foreigners in industrial production decreased, which is undoubtedly influenced by a lower demand in the automotive sector. The number of foreign workers working in the hospitality industry fell twofold due to the restrictions and limitations put in place to prevent the spread of COVID-19.
The construction sector, on the other hand, has seen increases. It is also worth noting that more and more respondents found employment as the so-called white collars – working in administration and offices or providing IT services.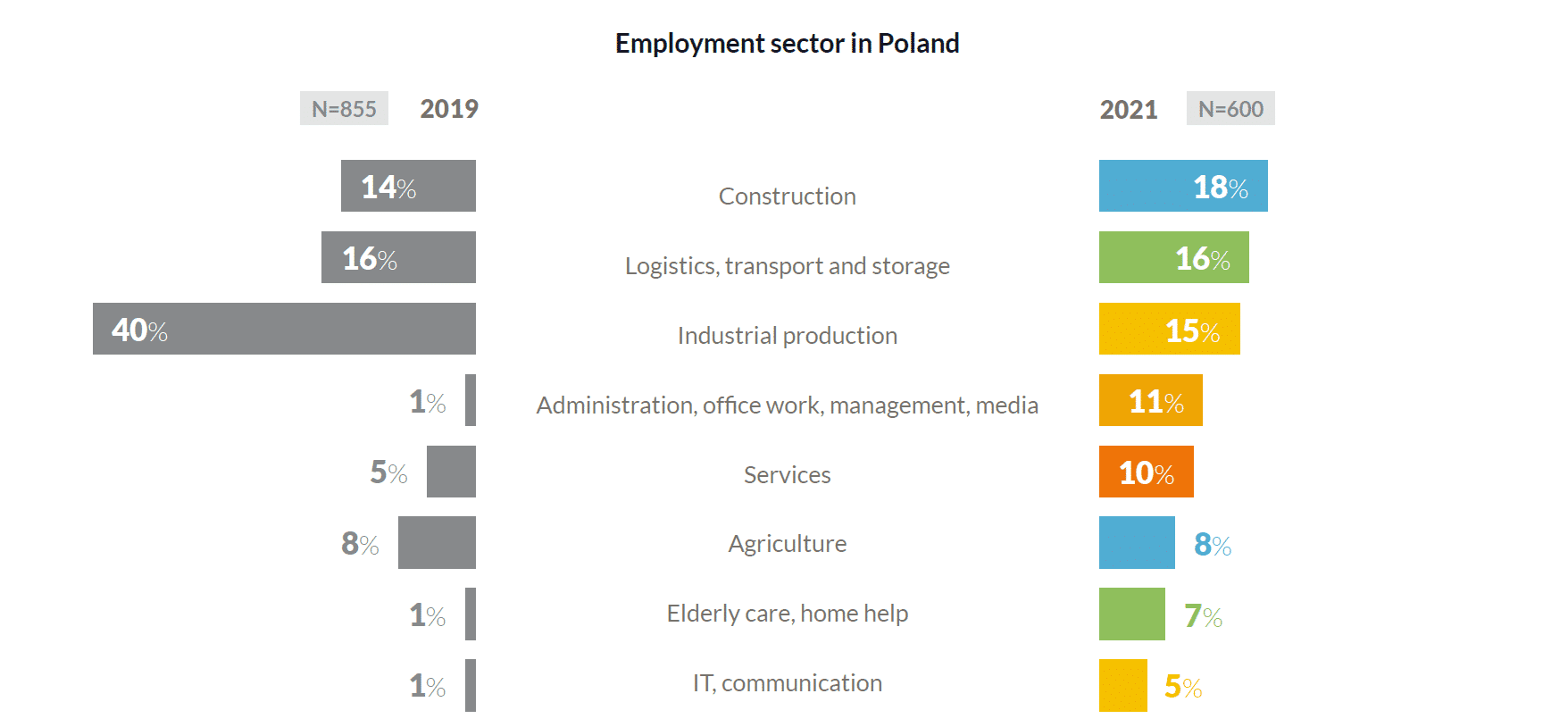 More than 2/3 of the respondents declare that they work in line with their qualifications. This represents an increase by 17 percentage points. This indicator together with the increase in the number of employees in administrative and office positions leads to the conclusion that the market has opened up to specialists from abroad, and cross-border workers from Ukraine have increasingly higher professional aspirations.
---
Fill out the form below to access the full report
*required fields
Read the information clause